Metatarsal Pads, or met pads for short, are designed to be placed directly below the metatarsal heads of your foot. They are ideal for use when suffering from metatarsalgia, morton's neuroma, sesamoiditis, and arthritis of the foot. Metatarsal pads help to keep your forefoot and toes spread in their natural position.
When you bend your forefoot back, you will notice an arch that runs from one side of your foot to other. Directly under that arch in the middle will be where you need to place your new met pads.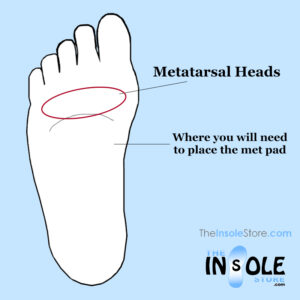 There are a couple of items that we suggest you grab to help you nail the perfect spot —double sided sticky tape, your met pads, a pen or marker, and either your insoles or shoes that you will be applying them to. The widest part of the pad will be facing towards your toes, while the more narrow side will be facing your heel. Some of the pads will be labeled with either a left or right side.
Now take your double sided tape and stick a piece on the bottom, do not remove the sticker backing just yet. Place the pad on your shoe or insole directly under where your metatarsal heads will be resting. If you feel like the arch in your metatarsal area is lifted, then you have the perfect spot. Sometimes it takes a couple of tries for the correct comfort, that is why you are using the sticky tape for now.
Once you have achieved finding the perfect spot, you can mark your shoe or insole, peel off the adhesive backing and adhere to where you marked its position.
Say goodbye to forefoot pain and hello to comfort at TheInsoleStore.com!